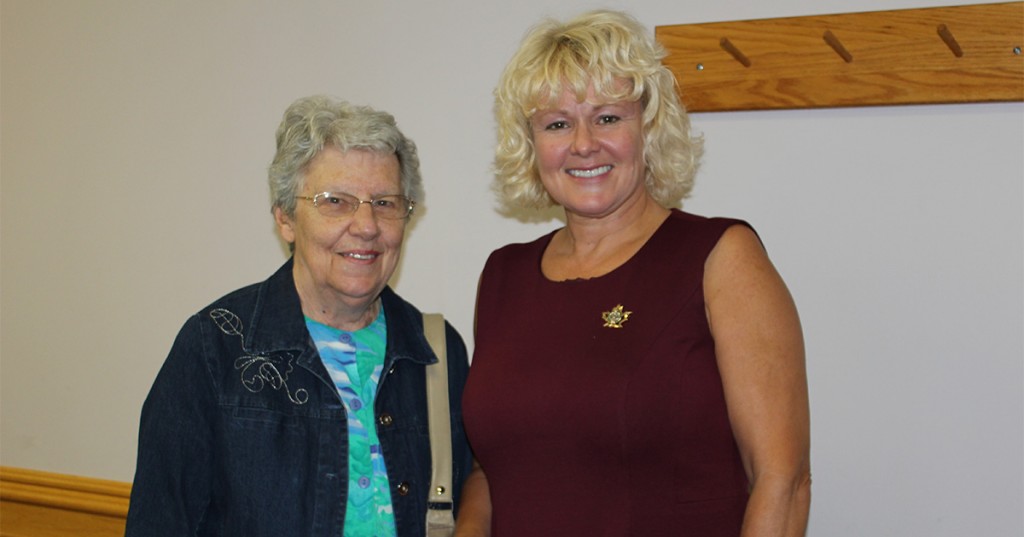 Arnprior, Ontario – Cheryl Gallant, MP Renfrew-Nipissing-Pembroke is pleased to mark National Seniors Day by partnering with the Arnprior Seniors at Home Program to invite constituents to attend a Seniors Symposium. The Symposium will take place Friday, October 24th, 2014, 11am to 3pm at the Nick Smith Centre, 77 James St. in Arnprior.
"I am proud to pay tribute to seniors on this National Seniors Day for all that they have done to make Canada the great nation it is today," stated Cheryl Gallant, MP. "The Government of Canada officially established National Seniors Day in 2010 to provide an occasion for all Canadians to celebrate and appreciate seniors. It coincides with the United Nations International Day of Older Persons."
Some of the topics to be featured include Know Your Rights, Guard Against Scams, Protection From Elder Abuse, Hospitalization Prevention, and Activities For Seniors.
The Government of Canada is working hard to help improve the lives of seniors on many fronts. These efforts include providing Canadians with close to $80 billion this year through Canada's public pension system.
"We topped up  the Guaranteed Income Supplement (GIS) in 2011 to help Canada's most vulnerable seniors. This was the largest increase in 25 years to the GIS for the lowest-income seniors. This measure further improves the financial security and well-being of more than 680 000 seniors across Canada. We are providing $2.8 billion in 2013 in additional tax relief to seniors and pensioners through measures such as pension income splitting and increasing the Age credit. We are providing $400 million over two years under Canada's Economic Action Plan for the construction of housing units for low-income seniors and we are making a strong investment in the New Horizons for Seniors Program (NHSP) through an annual budget of $50 million. Since 2006, the NHSP has funded more than 13,000 projects in hundreds of communities across Canada, many right here in Renfrew-Nipissing-Pembroke.
"Seniors in Arnprior and across Canada deserve our gratitude and recognition for all the valuable contributions they have made and continue to make within our families, workplaces and communities," concluded Cheryl Gallant, MP.