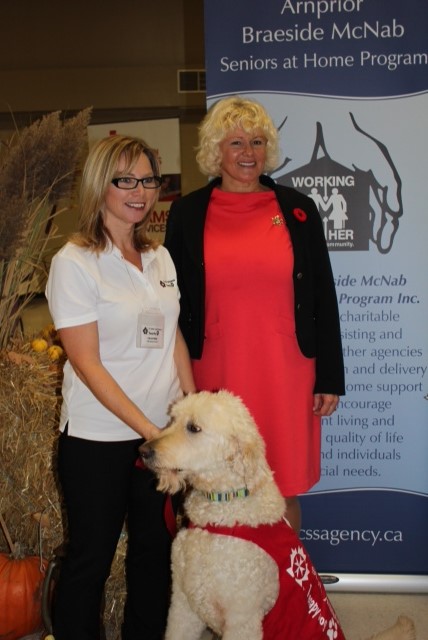 Arnprior, Ontario – Cheryl Gallant, MP Renfrew-Nipissing-Pembroke is pleased to thank Arnprior-Braeside-McNab Seniors At Home Program and all the participants from the local community who participated in the Seniors Symposium that recently took place in Arnprior.
"Community support plays a major role in assisting seniors to be self-sufficient and remain in their homes as long as possible," stated Cheryl Gallant, MP. "Everybody wins, particularly the seniors, the longer they are able to enjoy the comfort of familiar surroundings. The Symposium, which was held at the Nick Smith Centre in Arnprior, was an effort to provide a venue to highlight the many local services that are available. Just knowing what is available is helpful."
In addition to a wide variety of community booths from such groups as St. Johns Ambulance, the Grove, Island View, Christine's Kitchen, the Arnprior Humane Society (seniors pets for seniors) and the Arthritis Society, attendees of the symposium were able to listen to a series of demonstrations from presenters like the OPP senior fraud protection squad, County of Renfrew Paramedic Service, and the Consumer Protection Ontario office.
"Canada's population is in the process of a fundamental demographic shift. This year, over 6 million Canadians were aged 65 and older. By 2030, that number will grow to over 9.5 million, representing 23 per cent of all Canadians. We are living longer and staying active in life longer. Our government is taking the right steps now to meet the challenge of caring for an aging population in the future," observed Cheryl Gallant, MP.
"If there was one thing I took home from the Arnprior Symposium, it was just how much we are a caring community. I can think of no better place to grow old than the Upper Ottawa Valley!" concluded Cheryl Gallant, MP.