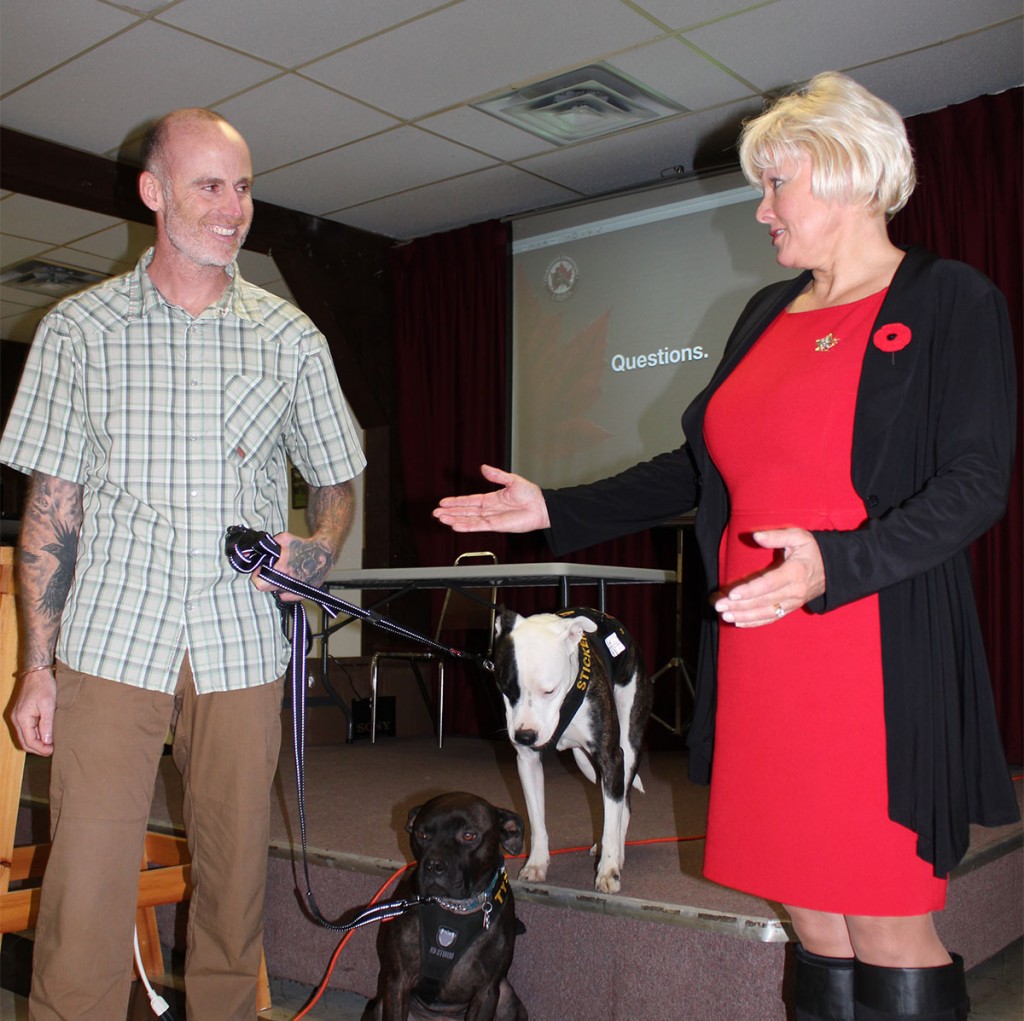 Petawawa, Ontario – Cheryl Gallant, MP Renfrew-Nipissing-Pembroke, is pleased to thank Royal Canadian Legion Branch 517, Petawawa for the venue, and all the participants from the local community who participated in the successful Veterans Information Therapy Session that recently took place in Petawawa. Hosted by MP Cheryl Gallant, the session featured presentations from Courageous Companions, The War Horse Project and the Canadian Adaptive Ski Program.
"I am pleased to thank presenters Alison Vandergragt from The War Horse Project; Retired Major Dan Flemming and Clay Dawdy from the Canadian Adaptive Ski Program; and retired soldier Marc Lapointe from Courageous Companions, for taking the time to present their therapies to our local veterans' community. It was a very informative afternoon," observed Cheryl Gallant, MP.
The War Horse Project is a 16 week equine assisted therapy program offered at a private facility close to CFB Petawawa. Participants meet for a half day once a week in a Peer supported program for Canadian Armed Forces Members and First Responders struggling with the after effects of trauma. In the words of Alison, "participants are challenged by engaging with horses in a safe, non-judgemental environment to break through the stigma, (whether real, perceived or imagined) associated with PTSD. PTSD is a normal reaction to an abnormal situation. It is the mind healing itself."
The Canadian Association for Disabled Skiing (CADS) is a volunteer-based non-profit organization that encourages self-confidence and independence by introducing the disabled to the outdoor sport of snow skiing and snowboarding. CADS has been successfully operating a winter sports clinic at Calabogie Peaks Ski Resort here in the Ottawa Valley with amazing results. At four previous clinics, over 50 injured soldiers/veterans, have, in one week, managed to overcome the traditional uncertainty of trying a new sport, learned new skills and become independent skiers. Spouses are encouraged to join their mates to make this a family program.
Courageous Companions matches a canine companion "rescued" from a shelter or pound and matches the dog with a soldier or veteran suffering from PTSD. A trained service dog provides physical and/or emotional support to a soldier or veteran who may be suffering from PTSD or other more visible injuries and allows them to reintegrate into their daily activities with dignity. Studies show interaction with animals to be one of the most efficient and long-lasting methods of producing the hormone, oxytocin, which has a powerful physical and emotional effect on the participants.
"Soldiers and their families know I care about their well-being. I encourage any member of our military community who would like more information, or would like to make a confidential referal, to please contact my office," concluded Cheryl Gallant, MP.