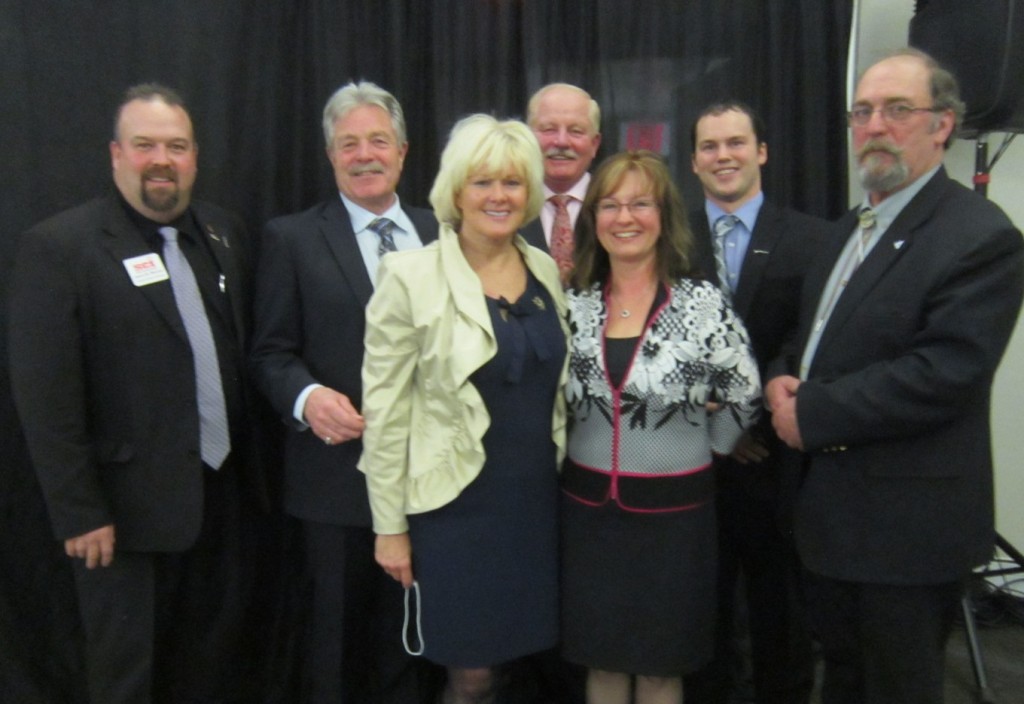 Ottawa, Ontario – Cheryl Gallant, MP was pleased to join Renfrew-Nipissing-Pembroke riding residents Jason St. Michael (Petawawa), Manager, Canada Operations, Safari Club International; Phil Morlock, President, Outdoor Caucus Association (Spectacle Lake); Angela Darraugh, Administrator, Environmental Affairs, Shimano Canada (Whitney) and Richard White (Renfrew), Zone 5B Director, Ontario Fur Managers Federation, for the Outdoor Caucus Association and the Fur Institute of Canada's 2nd Annual Outdoor Heritage Event and Live Auction in Ottawa. MP Cheryl Gallant is a founding member of the Outdoor Caucus.
"As the Member of Parliament for a Riding whose residents are known for their appreciation of the great outdoors, it gave me great pleasure to join riding residents as well my caucus colleagues in attending this event," stated Cheryl Gallant, MP. "The non-partisan Outdoor Caucus Association was formed as an information resource for Members of Parliament who represent rural constituencies to inform urban MPs on issues they have been given incorrect information. The Chair of the Outdoor Caucus Association is veteran Conservative MP Gary Breitkreuz, who is legendary in the outdoors community for standing up for the rights of hunters, farmers and firearms enthusiasts."
"Recent comments by the Official Opposition that they want to waste another billion dollars and bring back the long-gun registry suggests the opposition is still fighting the old cultural war they declared on rural Canadians. Unlike the Conservative Party, which allows for independent positions on issues like gun control and life, individual opposition members can join the outdoors caucus, but when it comes to voting with their constituents, they are forced to vote their party line."
"The Fur Institute of Canada was honoured to be a sponsor of this year's heritage event," observed MP Cheryl Gallant. "This was certainly the case when our government refused to be, and I quote the Fur Institute, "compromised by radical animal rights activists whose efforts and campaigns of misinformation only serve to hurt the livelihoods of Canadians in rural and remote communities."
There was a negative campaign by animal rights activists to ban fur hats worn by the Mounties.
"It was important the federal government recognized the RCMP's history is closely linked to the fur trade. Replacing the traditional hats with toques would send a devastating message to trappers and commercial markets. The history of Canada was built on the fur trade and many Canadians are still involved in it, particularly First Nation communities. The local leadership from our riding recognizes the wealth of our outdoor heritage. For their support of the work I do in Ottawa for hunters and sportsmen, I am grateful. I appreciated their presence at this year's event in Ottawa, "concluded Cheryl Gallant, MP.