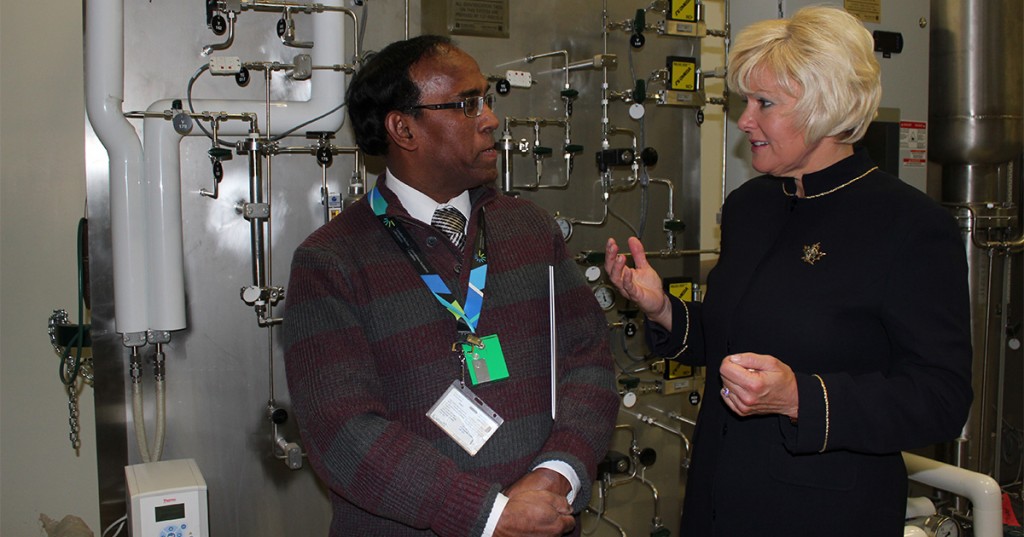 Laurentian Hills, Ontario – Cheryl Gallant, MP Renfrew-Nipissing-Pembroke today announced the completion of a major upgrade in nuclear science and technology capacity at Canadian Nuclear Laboratories (CNL), a subsidiary of Atomic Energy of Canada Limited.
This investment of $55 million to renovate CNL's Hydrogen Laboratory enables the state-of-the-art facilities to house unique equipment for conducting research and development in hydrogen-based energy production, storage and safety.
"Cutting edge hydrogen research ensures future economic and employment viability at Canadian Nuclear Laboratories," stated Cheryl Gallant, MP. "This is where the real clean energy jobs are. In Ontario, skyrocketing electricity prices from massively subsidized, ineffective, wind and solar has cost tens of thousands of lost jobs."
"Innovation Valley North, which is my vision of the next generation of jobs in the Upper Ottawa Valley, is being realized with today's $55 million announcement."
"Whenever the discussion turns to clean energy and the environment, after nuclear, hydrogen is always part of the intelligent discussion. It is wise environmental policy by our Federal Government to focus on research and development on clean energy like hydrogen. By focusing on the next generation of cheaper clean energy, Canada is making a real, tangible contribution to pollution–free energy generation."
This investment in science and technology infrastructure demonstrates our Government's commitment to the Canadian nuclear sector by providing new opportunities for growth. These actions include promoting trade for nuclear products and services with countries such as China and India, and restructuring Atomic Energy of Canada Limited to bring private-sector rigour and efficiency to its management while creating value.
Quick Facts
Canada's nuclear industry accounts for 30,000 high-quality jobs, including almost 3,000 employees at Canadian Nuclear Laboratories (CNL) at Chalk River, Ontario and helps make Canada's electricity supply among the cleanest in the world.
Nuclear power generates close to 15 percent of Canada's non-emitting electricity, including more than half the electricity supply in Ontario.
"Our government's substantial investment in the new Hydrogen Technology Laboratory demonstrates our support for nuclear science by delivering new, cutting edge facilities."