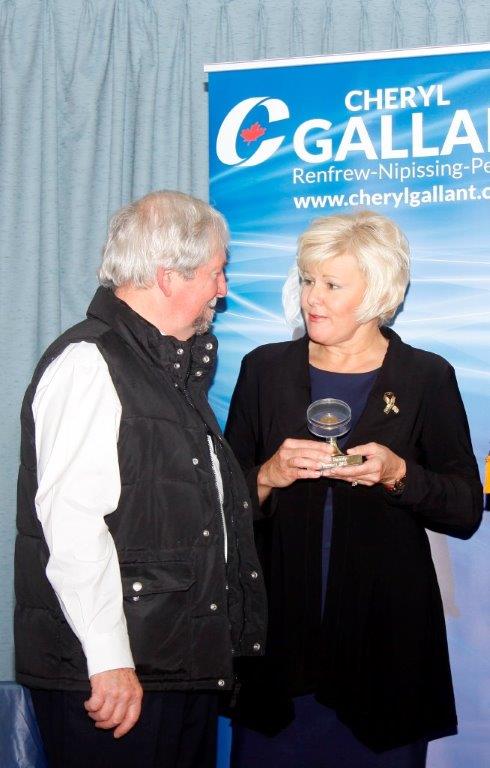 Calabogie, Ontario – Cheryl Gallant, M.P. for Renfrew—Nipissing—Pembroke, was pleased to present Calabogie's Clay Dawdy with an MP Commendation for his work with the Adaptive Ski Program and Snowboarding Program at Calabogie Peaks Resort.
"For his dedication and commitment to the Adaptive Ski Program and Snowboarding Program, and I pleased to present Clay with an MP Commendation," said MP Gallant.  "Clay should also to be lauded for his work with injured soldiers, by organizing yearly winter sports clinics for injured soldiers and veterans, including their spouses."
The Adaptive Ski Program and Snowboarding mission is to enrich the lives of persons living with disability through adaptive skiing and snowboarding.
The MP Commendations is an award given by MP Cheryl Gallant Canadians in honour of their contributions and achievements in our communities.   The idea for MP Commendations came from the 2012 Queen's Diamond Jubilee award, where hundreds of area volunteers and community leaders were nominated, but only a handful selected.  MP Gallant believed that recognition should continue to be given to those unsung heroes who help build their communities.
For more information on MP Commendations or to nominate someone you believe is deserving, please, visit cherylgallant.com/mpcommendations.