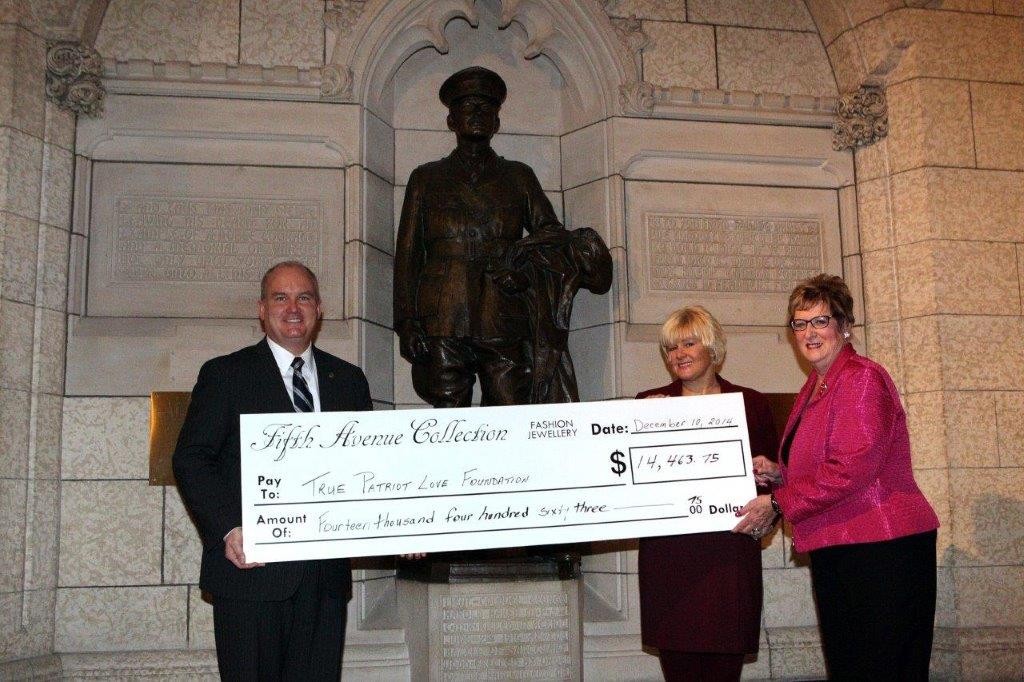 Ottawa, Ontario – Cheryl Gallant, M.P. for Renfrew—Nipissing—Pembroke, was pleased to have Durham MP and CAF Veteran Erin O'Toole join Petawawa business owner GwenGreenstock in the presentation of $14,463.75 to True Patriot Love, a charity which supports Canadian Armed Forces members, Veterans, and their families.  The money was raised from the sale of 'Support our Troops' pins.
"I am very proud to be here today with Gwen to see the success of the Support our troops pin campaign," said MP Gallant.  "It was a fun working with Gwen to design a pin, see its popularity then have it become a means of helping injured soldiers.  The generosity of Fifth Avenue, and the support of Canadians has allowed local organizations to support our troops, veterans, and their families with innovative therapies."
Gwen Greenstock is the owner of Fifth Avenue Collection in Petawawa, and has been at the lead of the 'Support our Troops' pin campaign.  Ms. Greenstock collaborated with MP Gallant in Spring 2014 to design an ornate pin in the shape of the yellow 'Support our Troops' ribbon.  The campaign to sell these pins was launched in November 2014.  The pins retail for $19.95, 100% of which was provided to True Patriot Love for the initial launch.
Fifth Avenue Collection absorbed all the costs associated with the pins for the first run, and continues to donate $3.00 from the sale of each pin to True Patriot Love.
True Patriot Love is a charity founded by Erin O'Toole, which stands to honour the sacrifice of members of the Canadian military, veterans and their families in both times of peace and conflict, through funding unique programs and innovative research which helps soldiers and veterans with mental health, physical rehabilitation, family support and veteran transition.