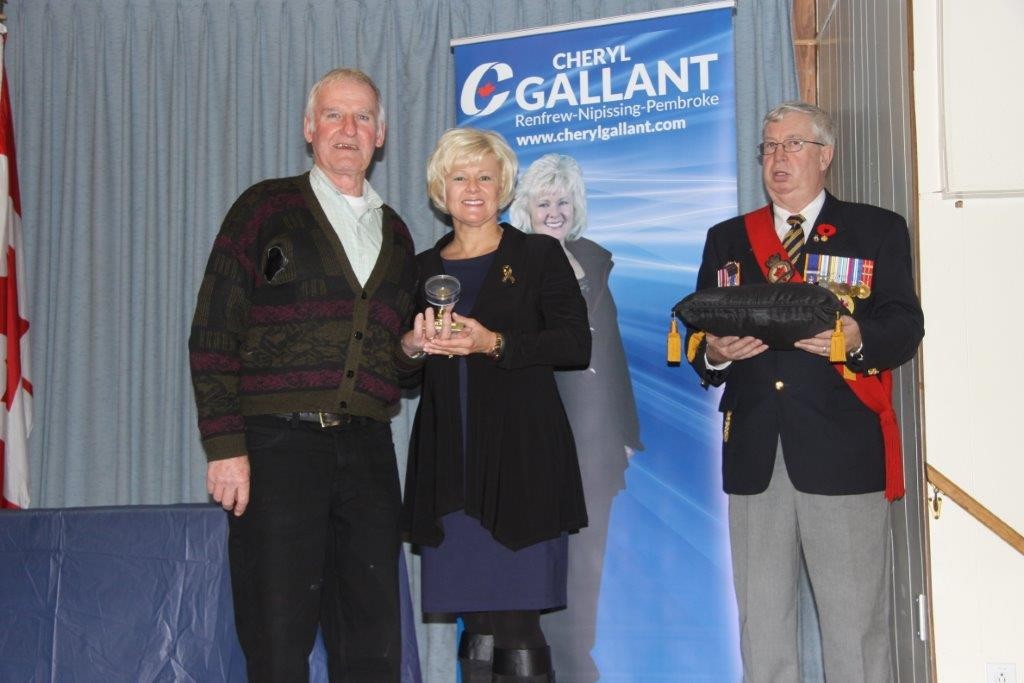 Arnprior, Ontario – Cheryl Gallant, M.P. for Renfrew—Nipissing—Pembroke, was honoured to present Arnprior's Stuart Nicholson with an MP Commendation for his selfless volunteerism.
"For your countless acts of kindness toward others, I pleased to present Stuart with an MP Commendation," said MP Gallant. "Stuart is a most humble, unrecognized gentleman who performs many good works across our community."
Stuart Nicholson has put aside his own personal commitments to devote his time toward numerous causes, including the Castleford United Church, Carp Fair, Food Grains Project, the Pakenham Curing Club, the Horton Community Centre, Shawville Cemetery, the annual Blue Grass Festival in Horton.
The MP Commendations is an award given by MP Cheryl Gallant Canadians in honour of their contributions and achievements in our communities. The idea for MP Commendations arose from the 2012 Queen's Diamond Jubilee award, where hundreds of area volunteers and community leaders were nominated, but only a handful selected. MP Gallant believed that recognition should continue to be given to those unsung heroes who help build their communities.
For more information on MP Commendations or to nominate someone you believe is deserving, please, visit cherylgallant.com/mpcommendations.