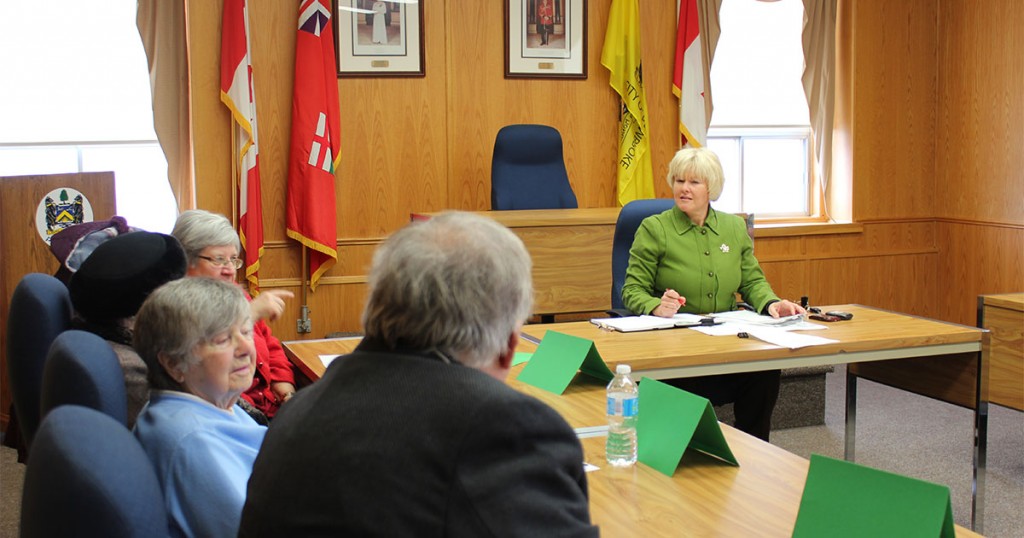 Pembroke, Ontario – Cheryl Gallant, MP recently hosted a successful meeting at the site of the original redstone Pembroke Post Office regarding changes at the Crown Corporation Canada Post. Joining Cheryl for a round table discussion were Maurice Levesque, Grand Knight, Pembroke Knights of Columbus; Audrey Edwards, Carefor Community Outreach, Pembroke; Donald Rath, Masons Renfrew; Heather McCurdy, Barbara Earl, Pembroke Seniors; Gail Fekete, St. Vincent de Paul; Judy Ewart, Administrator Renfrew & Area Seniors Home Support; Suzanne Lachambre, TLC, Special Committee, Air Force Wing Renfrew; Kenneth and Pamela Connell, Pembroke Seniors Drop-in Centre.
"While Canada Post was changed into a crown corporation to separate politics from the day to day decisions, as the local Federal Member of Parliament, I wanted my constituents to be informed about the planned changes, and where possible make suggestions before changes are implemented," stated Cheryl Gallant, MP. "Taxpayers understand that as a crown corporation, Canada Post is prohibited from running a deficit. Times have changed considerably from the days of your great grandparents when mail was delivered on horseback. Thanks to the internet, particularly in the last several years, mail volumes have been dropping considerably. As a result of reduced mail volumes, Canada Post had to take immediate action."
Changes include reduced hours at some post office locations and replacing door to door mail delivery for the one-third of Canadians who receive it with community mail boxes.
"What I found is that the conversation about door-to-door mail delivery for the one-third of Canadians who receive it, apart from practical considerations like placement of community mailboxes, up keep and accessibility, quickly became a conversation about services to seniors and to those in our community living with disabilities," observed MP Gallant. "Residents know that I have worked hard for the disabled in our community. The same can be said for seniors with mobility issues and the seniors who want to be prepared for the day that may come when they will need assistance with the daily tasks of life."
"When it comes to placing mail receptacles, Canada Post has confirmed to me their commitment to work with municipalities on their placement. I, in turn am committed to working with constituents to see these changes implemented in a thoughtful and conscientious manner, concluded Cheryl Gallant, MP.