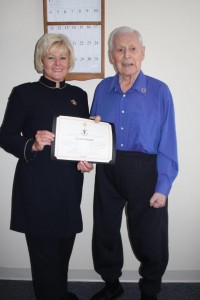 Deep River, Ontario – Cheryl Gallant, M.P. for Renfrew—Nipissing—Pembroke, was pleased to present Harold Gutzman of Deep River with World War II Veteran tribute pin and certificate. Mr. Gutzman served in the Western European theatre until 1945.
"In commemoration of his service to our country in the Second World War, it is my pleasure to present Harold Gutzman with this Tribute," said MP Gallant. "The Canadian Army spearheaded the allied liberation of the Netherlands in 1944 and 1945, almost singlehandedly driving the German forces from the country. To this day, Canada and the Netherlands share a special connection thanks to the efforts of soldiers like Harold Gutzman."
Harold Gutzman served in the Canadian Army in the Second World War, seeing action in France, Belgium and the Netherlands. For his participation in the First Canadian Army's campaign to liberate the Netherlands, Mr. Gutzman received the Netherlands Campaign Pin.
To mark the 75th anniversary of Canada's engagement in the Second World War, living Canadian Veterans of the Second World War can receive a tribute lapel pin and certificate in recognition of their service to Canada. Any Veteran who served at least one day with Canadian forces or any other Allied force, including the Canadian or British Merchant Navy, is eligible to receive the tribute lapel pin and certificate.
If you are or know a WWII Veteran who is eligible to receive this recognition, please, visit cherylgallant.com/veterans for information on how to apply.