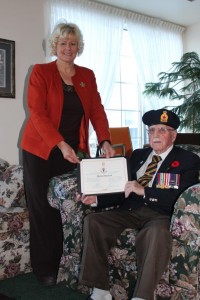 Deep River, Ontario – Cheryl Gallant, M.P. for Renfrew—Nipissing—Pembroke, was pleased to present Shirley Olmstead of Barry's Bay with a World War II Veteran tribute pin and certificate. Mr. Olmstead served in the Italian theatre until 1944, when he was taken as a Prisoner of War.
"In commemoration of his service to our country during the Second World War, it is my pleasure to present Shirley Olmstead with this Tribute," said MP Gallant. "More than 9,000 Canadian soldiers, pilots and naval sailors were held as Prisoners of War in World War II. They were subject to brutal, inhuman living conditions in the prison camps. Those who survived this ordeal, like Shirley Olmstead, should be remembered for what they went through in the service of our country."
Shirley Olmstead served with the Canadian Army during the Italian Campaign in 1944. He was caught and imprisoned as a Prisoner of War (POW) by the Germans two days before Christmas, 1944. He remained a POW for almost five months, until the German forces in Italy surrendered to the Allies on May 2nd, 1945.
The Canadian Army, Navy and Air Force played a major role in the two-year campaign to liberate Italy in World War II. During the drive up the Italian peninsula, elements of the 1st Canadian Army held the Allied right flank, and, notably, saw combat in the Moro River Campaign, the Battle of Ortona, and in the push towards the Gothic Line in Northern Italy.
To mark the 75th anniversary of Canada's engagement in the Second World War, living Canadian Veterans of the Second World War are being honoured with a tribute lapel pin and certificate in recognition of their service to Canada. Any Veteran who served at least one day with Canadian forces or any other Allied force, including the Canadian or British Merchant Navy, is eligible to receive the tribute lapel pin and certificate.