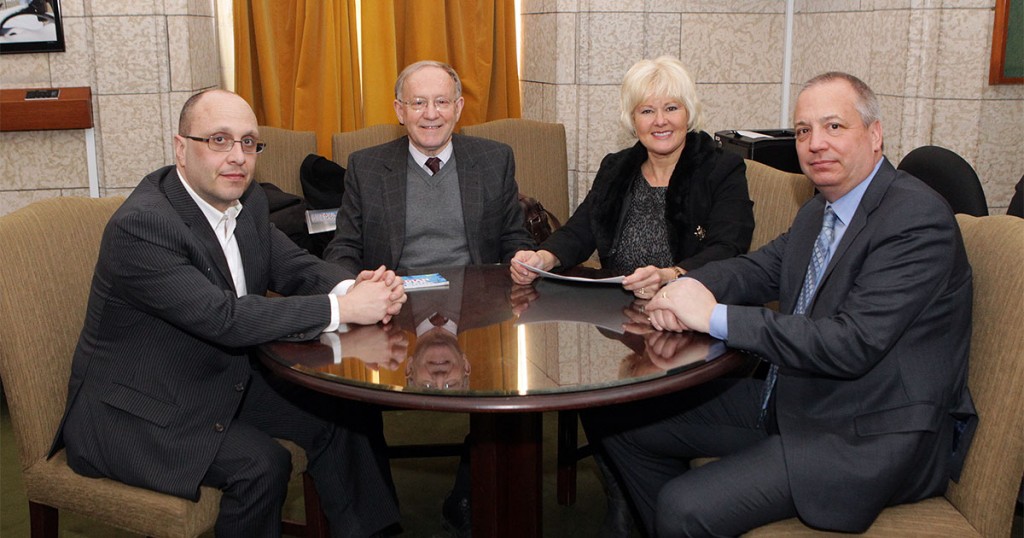 Photo: (L to R) Cheryl Gallant, MP meeting this week with George Christidis, Director Federal Affairs Ontario Power Generation; Dr. John Barrett, President & CEO Canadian Nuclear Association; Cheryl Gallant, MP; Steve Copeland, Senior Advisor Regulatory Affairs Bruce Power
Ottawa, Ontario – Cheryl Gallant, MP Renfrew-Nipissing-Pembroke, was pleased to be voted unanimously as Chair of the Conservative Nuclear Industry Caucus.
"The Nuclear Industry is important to Renfrew County as a major employer. Thousands of Canadians enjoy good, well-paying jobs in this sector. Good for the environment, Nuclear electricity generation produces no greenhouse gas emissions," stated Cheryl Gallant, MP. "I am proud of my record defending the nuclear industry and jobs in Renfrew County and in the House of Commons. While critics in the Opposition claim to support science-based decision making, when it comes to Canada's nuclear success story, they refuse to look at the science and the facts. I am encouraged that former opponents who have taken the time to become educated about the nuclear industry have joined the intelligent discussion about the need for a diverse energy mix in Canada."
Nuclear power is the work-horse of power supply and of zero-carbon generation.  Nuclear plants operate around the clock in all weather, providing over 50% of Ontario's electricity supply
"Nuclear power electricity generation offers many additional advantages besides producing no greenhouse gas emissions. Industrial wind turbines only work when the wind blows, and they turn at times when power is not needed. This has led to Ontario electricity consumers paying billions of dollars to American States to take our excess electricity. Backup fossil fuel generating plants are required for all the times the wind does not blow. They have to cycle up and down more often. This stop-and-start cycling burns up more feedstock and increases greenhouse gas emissions across the board, which is bad for the environment" observed MP Gallant.
"Nuclear power is economical, compared to wind, costing less than half what is paid to the owners of industrial wind turbines.  If consumers only paid the cost of electricity, electricity bills would drop up to 80%. The "global adjustment/carbon tax" that is now added to electricity bills by the Ontario Liberal party has resulted in the exodus of thousands of manufacturing jobs, and has created real financial hardship among ratepayers, particularly anyone on a fixed income.  Of complaints I receive in my office, after the hated liberal long-gun registry, the ever rising price of electricity in Ontario tops the list."
"Lower energy costs are good for manufacturers and consumers. Nuclear makes good consumer, environmental and economic sense for Ontario. The future is nuclear!" concluded Cheryl Gallant, MP.