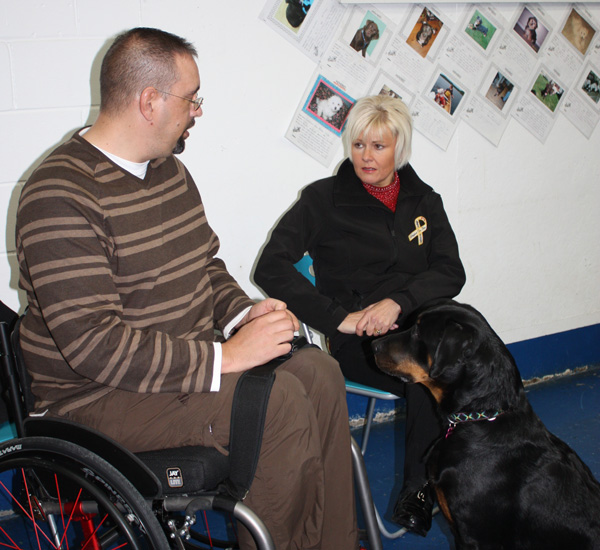 Garrison Petawawa, Ontario – Cheryl Gallant, MP Renfrew-Nipissing-Pembroke, welcomed the announcement of a proposed new financial benefit  aimed at providing financial stability to Veterans who are moderately to severely disabled and their families.
"As the Member of Parliament for Garrison Petawawa, the largest army base in Canada, I care about the treatment our soldiers and veterans receive," said Cheryl Gallant MP. As a Member of the Standing Committee on National Defence I have a continued commitment to Veteran-centric care. I also recognize the complexity of financial benefits available for moderately to severely disabled Veterans. With our Minister of Veterans Affairs Erin O'Toole, I am pleased to confirm Veterans Affairs Canada (VAC) is examining ways to combine these new and existing supports into a single monthly pension for severely injured Veterans so they are easily accessible and readily understood."
Currently, the Earnings Loss Benefit—upon which many moderately to severely disabled Veterans rely—is not available after the age of 65, resulting in a drop in the Veteran's annual income. The new Retirement Income Security Benefit that has been announced would provide these Veterans with continued assistance in the form of a monthly income support payment beginning at age 65.
"While it is estimated that by 2020, 261 Veterans and survivors would receive payments from the Retirement Income Security Benefit, there are another approximately 5800 Veterans and survivors who, by age 65 will qualify also," stated MP Cheryl Gallant. "It is important to note this is a program, an ongoing benefit—not a one-time expenditure. The Retirement Income Security Benefit closes a major gap that exists with respect to financial security for Canada's moderately and severely disabled Veterans and their families.
"This benefit is designed to assist those disabled Veterans who may not have a pension from the Canadian Armed Forces or have very modest pension income and whose ability to save for retirement was directly impacted by a serious injury sustained in service to their country. This announcement addresses a need and I encourage my fellow parliamentarians to support this initiative," concluded Cheryl Gallant, MP.
The proposed Retirement Income Security Benefit would work in concert with existing services and benefits to establish a continuum of support that spans a disabled Veteran's entire life. It is designed for those whose ability to save for retirement was directly impacted by their service to our country. Income support would also be extended to families through continued payment of a monthly benefit to the Veteran's survivor.