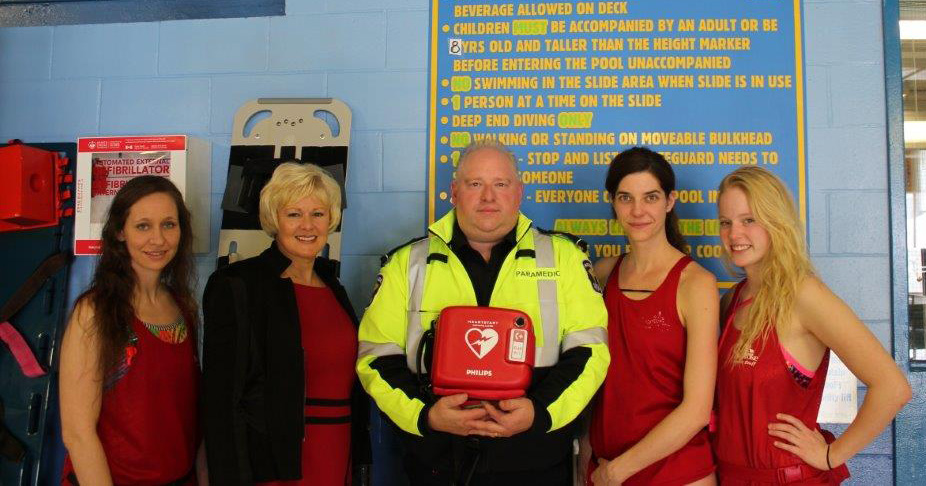 Pembroke, Ontario – Cheryl Gallant, M.P. for Renfrew—Nipissing—Pembroke, was pleased visit the Kinsmen Pool to see the recently installed Automated External Defibrillator (AED). The Defibrillator was funded through a partnership between our Conservative Federal Government and the Heart and Stroke Foundation.
"I am happy to hear that the staff has already been trained to use the new defibrillator," said MP Gallant. "These defibrillators will be important to protecting the health and lives of those affected by severe cardiac episodes while in the sports facility. The Heart and Stroke Foundation's partnership in this program to promote healthy and safe lifestyles for Canadians is greatly appreciated."
The AED received by the Kinsmen Pool was a Tier 2B defibrillator, which means that there is already an existing AED in the building, but there is a need for an additional unit to ensure no one is more than 25 meters away from one in case of an emergency.
The Federal Government has committed $10 million in funding for a four year period to, in partnership with the Heart and Stroke Foundation, install Automated External Defibrillators in recreational arenas across Canada, and train staff and personnel on how to use them. For more information on this program please, visit www.cherylgallant.com.