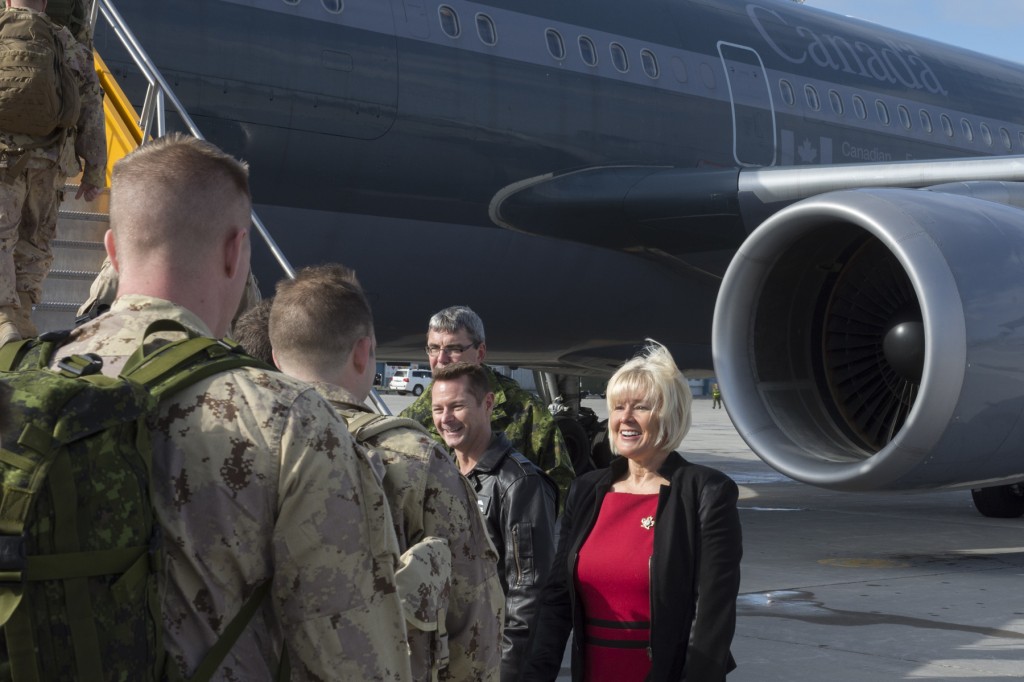 Trenton Air Force Base, Ontario… Cheryl Gallant, MP Renfrew-Nipissing-Pembroke, was pleased to be joined by Colonel David Lowthian, Commander of 8 Wing Canadian Forces Base Trenton, in wishing safe journey for military personnel deploying overseas as part of Op IMPACT, the Canadian Armed Forces (CAF) contribution to the Middle East Stabilization Force. As a Member of the Standing Committee on National Defence and Chair of the Canada NATO Parliamentary Association, MP Gallant was honoured to represent the Minister of National Defence for the departure ceremony.
"Canadians take pride in their women and men in uniform," stated Cheryl Gallant, MP. "On behalf of the Government of Canada, I thank the military families for their support. We are truly proud of our troops for their professionalism and dedication to this mission."
This departure of personnel consisting of approximately 120 CAF personnel is drawn from bases across the country as part of an ongoing rotation of troops that supports Canada's continuing operations while allowing deployed troops to return home. After departing Trenton, the aircraft made a stop at 3 Wing Bagotville to pick-up additional personnel. The relief in place began in mid-April and will continue rotating personnel until approximately mid-June.
Operation IMPACT is the Canadian Armed Forces' (CAF) contribution to the Middle East Stabilization Force – the military mission of the international coalition against ISIS.
Approximately 600 CAF personnel are deployed as part of Joint Task Force-Iraq (JTF-I), which includes various staff, support elements, and an air task force. On March 30, 2015, the CAF mission was formally extended for up to 12 months and its mission expanded to authorize the conduct of airstrikes against ISIS targets in Syria.
"Canadian Armed Forces personnel are battle hardened and respected worldwide as an agile and versatile force. Today, as another group departs Canada to stand alongside our Allies against ISIS brutality, we can take pride they represent Canada's most solemn commitment to this vital effort."