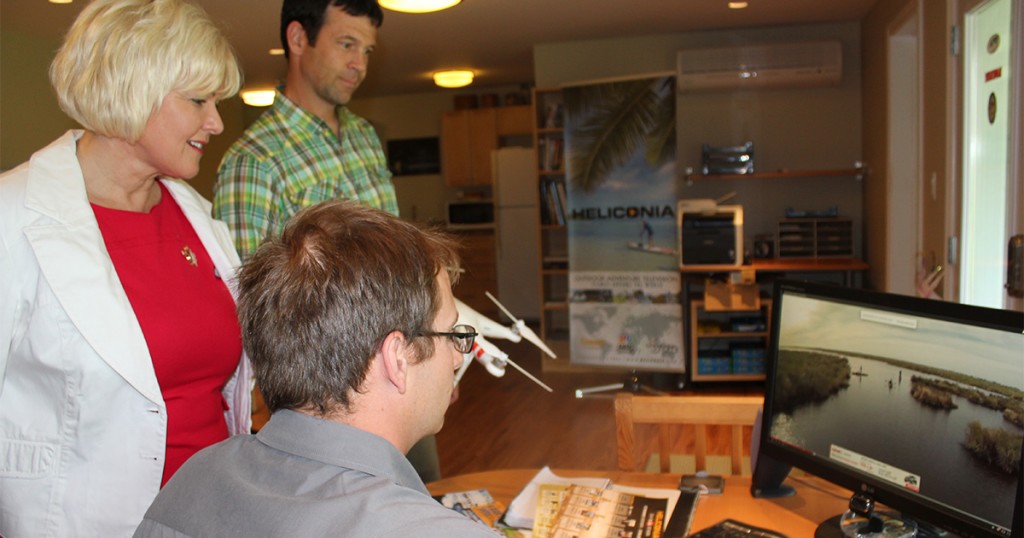 Beachburg, Ontario – Cheryl Gallant, M.P. for Renfrew—Nipissing—Pembroke, was pleased to visit Heliconia Press in Beachburg to announce a contribution of $100,000 over five years from the Federal Government's Eastern Ontario Development Program (EODP). The funding will support increasing market competitiveness and overall business strength.
"I am pleased that the Federal Government wisely decided to support this local, innovative, and world-leading business," said MP Gallant. "Heliconia is an excellent example of a business which successfully transitioned from print media to the online world, and it has thrived under the leadership of Ken Whiting. This investment will help Heliconia continue to grow and prosper."
Heliconia Press was founded in 1998 by World Champion kayaker Ken Whiting. Over the next seven years, Heliconia developed its reputation as one of the leading book publishers and DVD production companies in the outdoor industry. These books and DVDs can now be found in thousands of specialty stores around the world.
Heliconia currently produces five, unique, 13-episode TV series. Two of these series air on NBC Sports, two air on the World Fishing Network, and the remaining series airs on Outside Television and Universal Sports. Heliconia also has one of the most powerful social media networks in the outdoor industry. Heliconia's YouTube Network has been watched over 21 million times and boasts close to 60,000 subscribers, while Heliconia has over 80,000 Facebook fans.
Administered through the Renfrew County Community Futures Corporation, the Eastern Ontario Development Program is a Government of Canada initiative, which promotes economic development in Eastern Ontario, leading to a diversified and competitive regional economy