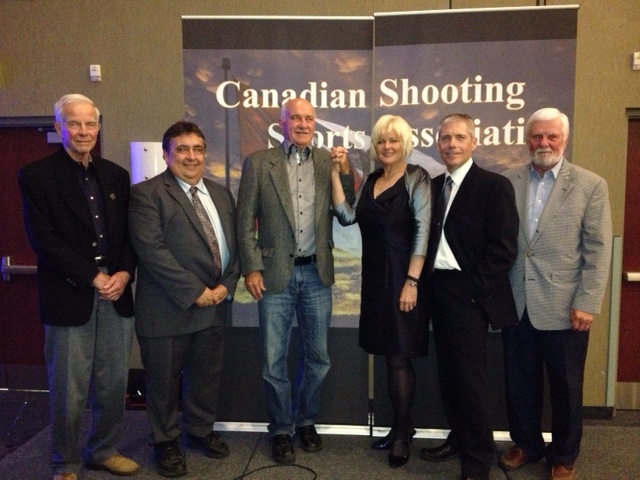 Ottawa, Ontario – Cheryl Gallant, MP was honoured to participate in a tribute dinner for veteran MP Garry Breitkreuz, hosted by the Canadian Shooting Sports Association (CSSA). The very special "Stick to your Guns" dinner recognized the unprecedented achievements of long-time Federal MP Garry Breitkreuz. This dinner was themed as a "thank-you" to the best friend Canadian gun owners ever had.
"There is no doubt about it, MP Garry Breitkreuz is the best friend Canadian gun owners ever had," stated Cheryl Gallant, MP. "I am truly honoured to recognize Garry as a friend and colleague. I humbly accept the torch from Garry to defend the rights of all Canadians to use and enjoy private property, which includes the privilege to own a firearm."
The CSSA is the voice of the sport shooter and firearms enthusiast in Canada. Its national membership supports and promotes Canada's firearms heritage, traditional target shooting competition, modern action shooting sports, hunting, and archery. They support and sponsor competitions and youth programs that promote these Canadian heritage activities.
"Garry was present when Bill C-68, the hated liberal long-gun registry, was forced onto the backs of law-abiding hunters, farmers and members of the recreational sport-shooting community. He witnessed first-hand the attack on rural Canadians in his rural Saskatchewan Riding. I witnessed the same contempt from the unchanged urban crowd when I was nominated to run in Renfrew-Nipissing-Pembroke."
"As an MP Garry came to the Ottawa Valley to let local people know they had a friend in Ottawa who was prepared to stand up for their way of life and fight Bill C-68. We held meetings across the Ottawa Valley and that is when I made the promise. Send me to Ottawa and I will help Garry scrap the long gun registry. Well a promise is a promise, and in the case of the long-gun registry, a promise made is a promised kept," stated Cheryl Gallant MP.
"My opponents who criticized Garry and myself by saying we would never succeed in scrapping the hated liberal long-gun registry did not count on our tenacity to get the job done. Garry meticulously researched the facts. Truth was on his side. Once he had exposed the fact the old government had wasted over a billion dollars on a useless bureaucratic nightmare for the law-abiding firearms community, we knew the lie was over."
"I recognize that while we have had many successes, the fight is not over. It is a honour and a privilege to accept the torch from the Honourable Garry Breitkreuz, Member from Saskatchewan. Enjoy your retirement, you earned it!" concluded Cheryl Gallant, MP.