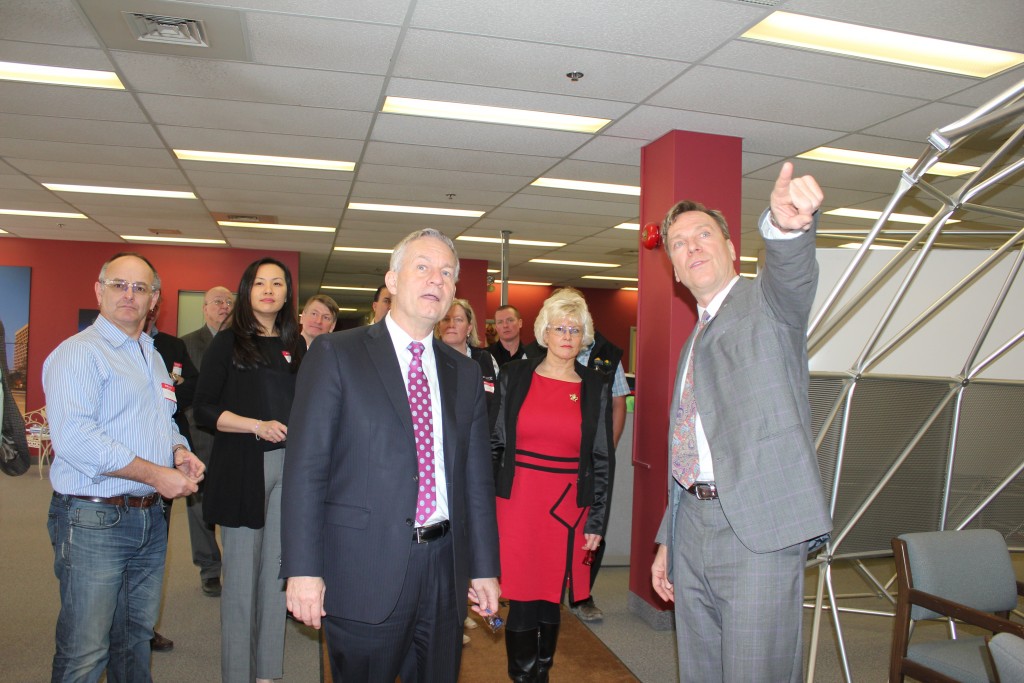 I was pleased to be joined by the Hon. Ed Fast, MP in Arnprior to a special briefing for local businesses on the Trans-Pacific Partnership (TPP). As Minister of International Trade in the Conservative Government, Mr. Fast negotiated the blockbuster trade deal.
Thank-you to David Watson, President and CEO of Plaintree Systems in Arnprior for the gracious use of his facilities for the discussion.
The Trans-Pacific Partnership trade deal represents opportunity and jobs for local businesses. No one in Canada is more qualified to explain the TPP than the individual who represented Canada at the negotiations, Ed Fast.
I invited Ed Fast to the riding to answer any questions employers may have about the agreement. 1 in 5 jobs in Canada and 60 percent of our nation's Gross Domestic Product (GDP) is directly linked to exports. The TPP represents a market of almost 800 million consumers with a combined GDP of $29 trillion which is 35 per cent of global GDP. It is important for local employers to be aware of the potential for growth that exists. More trade translates into more jobs and a higher standard of living for Canadians.
It makes far more economic sense to use trade to grow our economy and create jobs than spend billions of dollars we do not have by running annual deficits.
Although the Federal government officially signed the Trans-Pacific Partnership (TPP) on February 4, 2016, the Liberals refuse to commit to whether or not they will ratify the agreement putting Canada's economy and future growth at risk.
The Minister of Trade must show leadership and stop delaying the ratification of the TPP. Ratifying the TPP will send a clear signal to Canadian businesses allowing exporters the opportunity to prepare and take advantage of this preferential market access with lower tariffs and further integration of global supply chains. Ratifying the TPP will preserve Canada's privileged access to our largest trading partner – the United States – and strengthens our partnership within NAFTA. The prospect of Canada being outside of the TPP while our NAFTA partners ratify the agreement would be catastrophic to our economy, global supply chains and lead to job losses. This TPP agreement will set the rules for trade in the Asia-Pacific region for generations to come.
Canada's exports to TPP countries in 2014 accounted for 81.1% of the total value of Canadian exports totalling $759.4 billion. A recent study by the Fraser Institute stated the TPP could boost Canadian exports by $15.7 billion and may increase Canada's GDP by $9.9 billion.