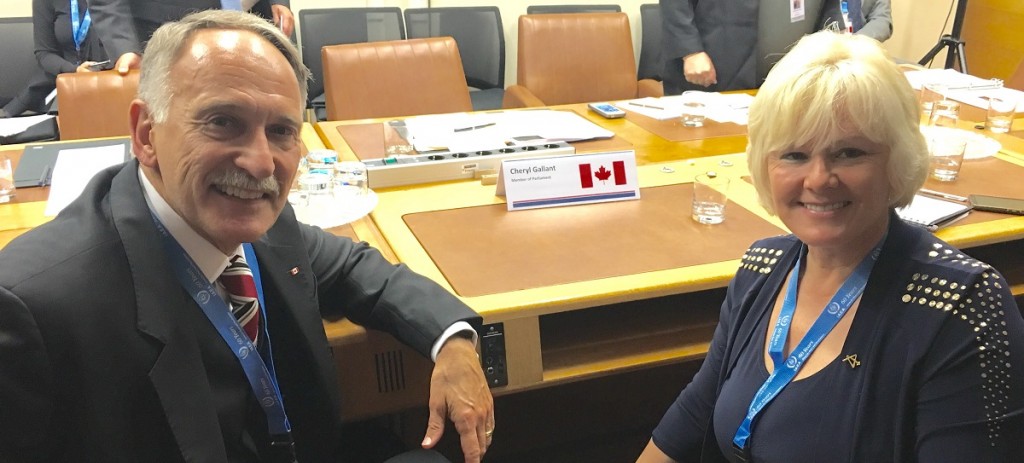 Vienna, Austria – Cheryl Gallant, MP Renfrew-Nipissing-Pembroke, recently was part of the Canadian Delegation at the International Atomic Energy Agency (IAEA) Congress. This year marks the 60th general conference held by the international agency under the theme "Atoms for Peace and Development." The Agency has made a unique contribution to international peace and security through its work to verify that nuclear material remains for peaceful uses. The Agency was given special recognition in 2005 with the Nobel Peace Prize.
"My message to the thousands of employees who work in Chalk River at Canadian Nuclear Laboratories (CNL), the global community now recognizes that nuclear generated electricity is the cleanest, safest, most economical sustainable source of power. Today, over 30 developing countries are considering adopting nuclear power. The first of four nuclear power reactors in the United Arab Emirates is expected to come on line in 2017," stated Cheryl Gallant, MP. "As a Tier One nuclear nation, Canada is well positioned to take advantage of this new Age of Nuclear Enlightenment. I am proud of the work our Conservative government accomplished in laying the groundwork for the future success of CNL, including the recently announced infusion of 800 million dollars into CNL that was years in the planning."
Nuclear power is making a significant contribution to reducing greenhouse gas emissions and improving energy security, while delivering energy in the large and growing capacities needed for development.
The Federal government has committed to implement United Nations 2030 Agenda for Sustainable Development (Agenda 2030). Agenda 2030 is an update of the previous United Nations "Agenda 21." Local Ottawa Valley residents may be aware that Agenda 21 was the impetus behind the "Greed" Energy and Economy Act that has resulted in huge increases in the price of electricity in Ontario. On 1 January 2016, the 17 Sustainable Development Goals (SDGs) of the 2030 Agenda for Sustainable Development, adopted in September 2015 at a UN summit, officially came into force.
"The past 60 years have demonstrated that nuclear science and technology play a major role in supporting sustainable development. To take just one example – improving access to effective cancer treatment in developing countries has been a high priority for Member States, the Agency and for me personally. Through our Programme of Action for Cancer Therapy – PACT – and other activities, we help countries to devise comprehensive cancer control programmes. Real progress has been made in recent years in Africa, in particular. New specialist cancer centres have been established. Radiation oncologists and medical physicists are returning home after receiving intensive training abroad with the support of the Agency. But the needs remain great and the Agency will maintain its focus on cancer control as a priority issue. Cancer is only one of many areas in which the IAEA contributes to the achievement of the Sustainable Development Goals. We are also helping countries to achieve the goals concerning poverty and hunger, clean water, affordable and clean energy, and climate change. These are all areas in which nuclear science and technology can make an important contribution." (IAEA Director General Yukiya Amano, conference opening comments).