Ottawa, ON – I am asking the Government where over $800 million dollars disappeared to, when it should have gone to Municipalities, for equal distribution through the Federal Gas Tax Fund administered by the Association of Municipalities of Ontario (AMO).
Hansard, March 10, 2017
Mrs. Cheryl Gallant (Renfrew—Nipissing—Pembroke, Conservative):
"Mr. Speaker, in their 2016 deficit budget, the Liberals promised to transfer uncommitted infrastructure funds from the previous Conservative government to municipalities through the gas tax transfer fund. When they took office in November 2015, there were $837 million left to distribute to municipalities across the country. On budget day just four months later, there were just $31 million left in the pot. One problem: no municipality has a record of the money coming to their municipality, so if no one has a record of the money, where did the money go?"
Of the many Conservative Government accomplishments the direct, respectful relationship we had between the two government levels was the one I am most proud of. Municipalities preferred the changes we made to the Federal Gas Tax program that made it permanent, predictable and fair.
The missing funds from Conservative legacy programs were accumulated without raising taxes and the federal budget was balanced.
Unlike the proposal-based way of distributing funding favoured by the Liberal party, where rural municipalities likened the process to playing the lottery, funds from the federal gas tax are distributed on per capita basis, with the same rules for everyone.
Municipalities could plan long-term, as they now knew what they were receiving. More importantly, municipalities could set local priorities, rather than be dictated to by Toronto.
AMO has identified an annual difference between the funding required, and for meeting infrastructure replacement needs at $378 per household. That means property taxes would need to increase by that amount at a minimum. If the funds promised in the 2016 budget had been distributed as stated, the City of Pembroke would have received an additional $541,398.
The additional transfers of federal gas tax funds for other Renfrew County municipalities should have been: Arnprior, $343,005; Deep River $160,251; Laurentian Hills $115,479; Petawawa $670,293; Renfrew $320,697; Admaston/Bromley $114,465; Bonnechere Valley $143,286; Brudenell, Lyndoch & Raglan $58,617; Greater Madawaska $98,202; Head, Clara & Maria $9,672; Horton $112,593; Killaloe, Hagarty & Richards $94,380; Laurentian Valley $366,093; Madawaska Valley $160,797; McNab/Braeside $279,942; (before upper tier government split).
The Association of Municipalities of Ontario (AMO) delivers the Gas Tax Fund to all Ontario municipalities, except Toronto, twice a year, on a per capita basis. Funds can be invested into infrastructure from 16 different project categories, or can be used for capacity building projects that contribute to strategic asset management and long-term planning. In 2016 AMO received $617 million from the Fund to invest in local infrastructure.
Thanks to the agreement signed by the Conservative Government, Ontario's municipalities will receive $3.8 billion between 2014 and 2018.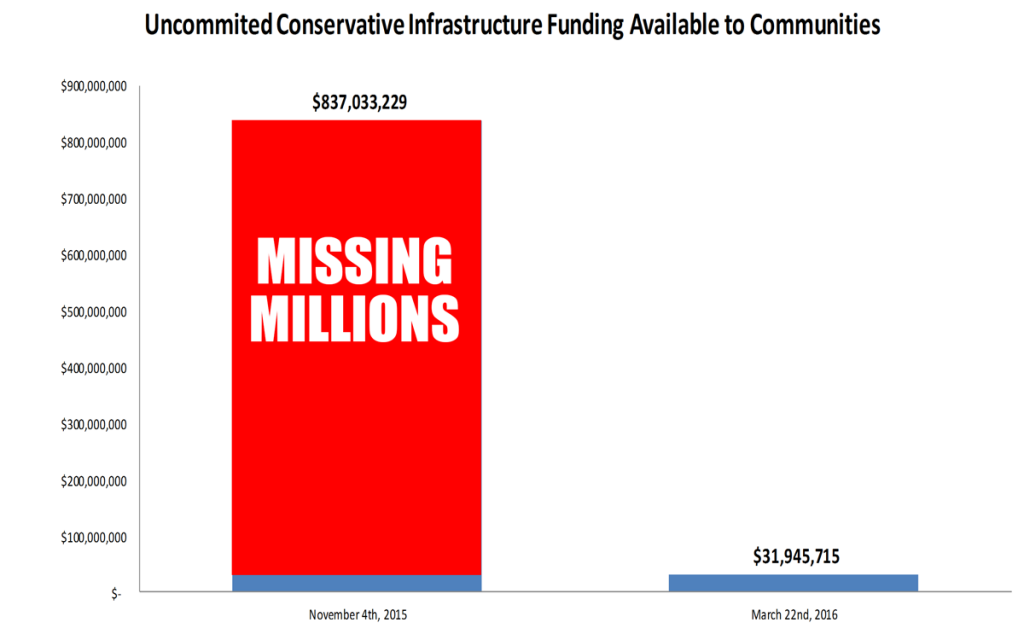 [ilink url="https://cherylgallant.com/wp-content/uploads/2017/03/Government-Response-to-Order-Papaer-Question-667-Infrastructure.pdf"]Government Response to Order Paper Question No667[/ilink]
Missing Municipal Money
Municipality

Population (as per
2016 Census)

Share of Uncommitted Conservative Government Infrastructure Programming on Nov. 4th, 2015

Share of Uncommitted Conservative Government Infrastructure Programming on Mar. 22nd, 2016

Missing
Money

City of Pembroke

13,882

 $        554,585.90

 $        13,187.90

 $     541,398.00

County of Renfrew (excluding City of Pembroke)

88,072

 $     1,759,238.20

 $        41,834.20

 $  1,717,404.00

Town of Arnprior

8,795

 $        175,680.13

 $          4,177.63

 $     171,502.50

Town of Deep River

4,109

 $          82,077.28

 $          1,951.78

 $       80,125.50

Town of Laurentian Hills

2,961

 $          59,145.98

 $          1,406.48

 $       57,739.50

Town of Petawawa

17,187

 $        343,310.33

 $          8,163.83

 $     335,146.50

Town of Renfrew

8,223

 $        164,254.43

 $          3,905.93

 $     160,348.50

Township of Admaston/Bromley

2,935

 $          58,626.63

 $          1,394.13

 $       57,232.50

Township of Bonnechere Valley

3,674

 $          73,388.15

 $          1,745.15

 $       71,643.00

Township of Brudenell, Lyndoch & Raglan

1,503

 $          30,022.43

 $             713.93

 $       29,308.50

Township of Greater Madawaska

2,518

 $          50,297.05

 $          1,196.05

 $       49,101.00

Township of Head, Clara and Maria

248

 $            4,953.80

 $             117.80

 $         4,836.00

Township of Horton

2,887

 $          57,667.83

 $          1,371.33

 $       56,296.50

Township of Killaloe-Hagarty &Richards

2,420

 $          48,339.50

 $          1,149.50

 $       47,190.00

Township of Laurentian Valley

9,387

 $        187,505.33

 $          4,458.83

 $     183,046.50

Township of Madawaska Valley

4,123

 $          82,356.93

 $          1,958.43

 $       80,398.50

Township of McNab/Braeside

7,178

 $        143,380.55

 $          3,409.55

 $     139,971.00

Township of North Algona Wilberforce

2,915

 $          58,227.13

 $          1,384.63

 $       56,842.50

Township of Whitewater Region

7,009

 $        140,004.78

 $          3,329.28

 $     136,675.50

Township of South Algonquin

1,096

 $          43,785.20

 $          1,041.20

 $       42,744.00

Calvin Township

516

 $          20,614.20

 $             490.20

 $       20,124.00

City of Dryden

7,749

 $        309,572.55

 $          7,361.55

 $     302,211.00

City of Elliot Lake

10,741

 $        429,102.95

 $        10,203.95

 $     418,899.00

City of Greater Sudbury

161,531

 $     6,453,163.45

 $      153,454.45

 $  6,299,709.00

City of Kenora

15,096

 $        603,085.20

 $        14,341.20

 $     588,744.00

City of North Bay

51,553

 $     2,059,542.35

 $        48,975.35

 $  2,010,567.00

City of Sault Ste. Marie

73,368

 $     2,931,051.60

 $        69,699.60

 $  2,861,352.00

City of Temiskaming Shores

9,920

 $        396,304.00

 $          9,424.00

 $     386,880.00

City of Thunder Bay

107,909

 $     4,310,964.55

 $      102,513.55

 $  4,208,451.00

City of Timmins

41,788

 $     1,669,430.60

 $        39,698.60

 $  1,629,732.00

East Ferris Township

4,750

 $        189,762.50

 $          4,512.50

 $     185,250.00

Municipality of Central Manitoulin

2,084

 $          83,255.80

 $          1,979.80

 $       81,276.00

Municipality of Charlton & Dack

686

 $          27,405.70

 $             651.70

 $       26,754.00

Municipality of Greenstone

4,636

 $        185,208.20

 $          4,404.20

 $     180,804.00

Municipality of Huron Shores

1,664

 $          66,476.80

 $          1,580.80

 $       64,896.00

Municipality of Killarney

386

 $          15,420.70

 $             366.70

 $       15,054.00

Municipality of Markstay-Warren

2,656

 $        106,107.20

 $          2,523.20

 $     103,584.00

Municipality of Neebing

2,055

 $          82,097.25

 $          1,952.25

 $       80,145.00

Municipality of Oliver Paipoonge

5,922

 $        236,583.90

 $          5,625.90

 $     230,958.00

Municipality of St. Charles

1,259

 $          50,297.05

 $          1,196.05

 $       49,101.00

Town of Blind River

3,472

 $        138,706.40

 $          3,298.40

 $     135,408.00

Town of Bruce Mines

582

 $          23,250.90

 $             552.90

 $       22,698.00

Town of Cobalt

1,128

 $          45,063.60

 $          1,071.60

 $       43,992.00

Town of Cochrane

5,321

 $        212,573.95

 $          5,054.95

 $     207,519.00

Town of Englehart

1,479

 $          59,086.05

 $          1,405.05

 $       57,681.00

Town of Espanola

4,996

 $        199,590.20

 $          4,746.20

 $     194,844.00

Town of Fort Frances

7,739

 $        309,173.05

 $          7,352.05

 $     301,821.00

Town of French River

2,662

 $        106,346.90

 $          2,528.90

 $     103,818.00

Town of Gore Bay

867

 $          34,636.65

 $             823.65

 $       33,813.00

Town of Hearst

5,070

 $        202,546.50

 $          4,816.50

 $     197,730.00

Town of Iroquois Falls

4,537

 $        181,253.15

 $          4,310.15

 $     176,943.00

Town of Kapuskasing

8,292

 $        331,265.40

 $          7,877.40

 $     323,388.00

Town of Kirkland Lake

7,981

 $        318,840.95

 $          7,581.95

 $     311,259.00

Town of Latchford

313

 $          12,504.35

 $             297.35

 $       12,207.00

Town of Marathon

3,273

 $        130,756.35

 $          3,109.35

 $     127,647.00

Town of Mattawa

1,993

 $          79,620.35

 $          1,893.35

 $       77,727.00

Town of Moosonee

1,481

 $          59,165.95

 $          1,406.95

 $       57,759.00

Town of Northeastern Manitoulin & the Islands

2,712

 $        108,344.40

 $          2,576.40

 $     105,768.00

Town of Rainy River

807

 $          32,239.65

 $             766.65

 $       31,473.00

Town of Red Lake

4,107

 $        164,074.65

 $          3,901.65

 $     160,173.00

Town of Sioux Lookout

5,272

 $        210,616.40

 $          5,008.40

 $     205,608.00

Town of Smooth Rock Falls

1,330

 $          53,133.50

 $          1,263.50

 $       51,870.00

Town of Spanish

712

 $          28,444.40

 $             676.40

 $       27,768.00

Town of Temagami

802

 $          32,039.90

 $             761.90

 $       31,278.00

Town of Thessalon

1,286

 $          51,375.70

 $          1,221.70

 $       50,154.00

Town of West Nipissing

14,364

 $        573,841.80

 $        13,645.80

 $     560,196.00

Township of Alberton

969

 $          38,711.55

 $             920.55

 $       37,791.00

Township of Armstrong

1,166

 $          46,581.70

 $          1,107.70

 $       45,474.00

Township of Assiginack

1,013

 $          40,469.35

 $             962.35

 $       39,507.00

Township of Atikokan

2,753

 $        109,982.35

 $          2,615.35

 $     107,367.00

Township of Baldwin

620

 $          24,769.00

 $             589.00

 $       24,180.00

Township of Billings

603

 $          24,089.85

 $             572.85

 $       23,517.00

Township of Black River-Matheson

2,438

 $          97,398.10

 $          2,316.10

 $       95,082.00

Township of Bonfield

1,975

 $          78,901.25

 $          1,876.25

 $       77,025.00

Township of Brethour

97

 $            3,875.15

 $               92.15

 $         3,783.00

Township of Burpee & Mills

343

 $          13,702.85

 $             325.85

 $       13,377.00

Township of Casey

368

 $          14,701.60

 $             349.60

 $       14,352.00

Township of Chamberlain

332

 $          13,263.40

 $             315.40

 $       12,948.00

Township of Chapleau

1,964

 $          78,461.80

 $          1,865.80

 $       76,596.00

Township of Chapple

638

 $          25,488.10

 $             606.10

 $       24,882.00

Township of Chisholm

1,291

 $          51,575.45

 $          1,226.45

 $       50,349.00

Township of Coleman

595

 $          23,770.25

 $             565.25

 $       23,205.00

Township of Conmee

819

 $          32,719.05

 $             778.05

 $       31,941.00

Township of Dawson

468

 $          18,696.60

 $             444.60

 $       18,252.00

Township of Dorion

316

 $          12,624.20

 $             300.20

 $       12,324.00

Township of Dubreuilville

613

 $          24,489.35

 $             582.35

 $       23,907.00

Township of Ear Falls

995

 $          39,750.25

 $             945.25

 $       38,805.00

Township of Emo

1,333

 $          53,253.35

 $          1,266.35

 $       51,987.00

Township of Evanturel

449

 $          17,937.55

 $             426.55

 $       17,511.00

Township of Fauquier-Strickland

536

 $          21,413.20

 $             509.20

 $       20,904.00

Township of Gauthier

138

 $            5,513.10

 $             131.10

 $         5,382.00

Township of Gillies

474

 $          18,936.30

 $             450.30

 $       18,486.00

Township of Gordon/Barrie Island

490

 $          19,575.50

 $             465.50

 $       19,110.00

Township of Harley

551

 $          22,012.45

 $             523.45

 $       21,489.00

Township of Harris

545

 $          21,772.75

 $             517.75

 $       21,255.00

Township of Hilliard

223

 $            8,908.85

 $             211.85

 $         8,697.00

Township of Hilton

307

 $          12,264.65

 $             291.65

 $       11,973.00

Township of Hornepayne

980

 $          39,151.00

 $             931.00

 $       38,220.00

Township of Hudson

503

 $          20,094.85

 $             477.85

 $       19,617.00

Township of Ignace

1,202

 $          48,019.90

 $          1,141.90

 $       46,878.00

Township of James

420

 $          16,779.00

 $             399.00

 $       16,380.00

Township of Jocelyn

313

 $          12,504.35

 $             297.35

 $       12,207.00

Township of Johnson

751

 $          30,002.45

 $             713.45

 $       29,289.00

Township of Kerns

358

 $          14,302.10

 $             340.10

 $       13,962.00

Township of La Vallee

938

 $          37,473.10

 $             891.10

 $       36,582.00

Township of Laird

1,047

 $          41,827.65

 $             994.65

 $       40,833.00

Township of Lake of the Woods

230

 $            9,188.50

 $             218.50

 $         8,970.00

Township of Larder Lake

730

 $          29,163.50

 $             693.50

 $       28,470.00

Township of Macdonald, Meredith & Aberdeen Additional

1,609

 $          64,279.55

 $          1,528.55

 $       62,751.00

Township of Machin

971

 $          38,791.45

 $             922.45

 $       37,869.00

Township of Manitouwadge

1,937

 $          77,383.15

 $          1,840.15

 $       75,543.00

Township of Matachewan

225

 $            8,988.75

 $             213.75

 $         8,775.00

Township of Mattawan

161

 $            6,431.95

 $             152.95

 $         6,279.00

Township of Mattice-Val Côté

648

 $          25,887.60

 $             615.60

 $       25,272.00

Township of McGarry

609

 $          24,329.55

 $             578.55

 $       23,751.00

Township of Moonbeam

1,231

 $          49,178.45

 $          1,169.45

 $       48,009.00

Township of Morley

481

 $          19,215.95

 $             456.95

 $       18,759.00

Township of Nairn & Hyman

342

 $          13,662.90

 $             324.90

 $       13,338.00

Township of Nipigon

1,642

 $          65,597.90

 $          1,559.90

 $       64,038.00

Township of O'Connor

663

 $          26,486.85

 $             629.85

 $       25,857.00

Township of Opasatika

226

 $            9,028.70

 $             214.70

 $         8,814.00

Township of Papineau-Cameron

1,016

 $          40,589.20

 $             965.20

 $       39,624.00

Township of Pickle Lake

388

 $          15,500.60

 $             368.60

 $       15,132.00

Township of Plummer Additional

660

 $          26,367.00

 $             627.00

 $       25,740.00

Township of Prince

1,010

 $          40,349.50

 $             959.50

 $       39,390.00

Township of Red Rock

895

 $          35,755.25

 $             850.25

 $       34,905.00

Township of Sables-Spanish Rivers

3,214

 $        128,399.30

 $          3,053.30

 $     125,346.00

Township of Schreiber

1,059

 $          42,307.05

 $          1,006.05

 $       41,301.00

Township of Shuniah

2,798

 $        111,780.10

 $          2,658.10

 $     109,122.00

Township of Sioux Narrows-Nestor Falls

567

 $          22,651.65

 $             538.65

 $       22,113.00

Township of St. Joseph

1,240

 $          49,538.00

 $          1,178.00

 $       48,360.00

Township of Tarbutt & Tarbutt Additonal

534

 $          21,333.30

 $             507.30

 $       20,826.00

Township of Tehkummah

436

 $          17,418.20

 $             414.20

 $       17,004.00

Township of Terrace Bay

1,611

 $          64,359.45

 $          1,530.45

 $       62,829.00

Township of the North Shore

497

 $          19,855.15

 $             472.15

 $       19,383.00

Township of Val Rita-Harty

762

 $          30,441.90

 $             723.90

 $       29,718.00

Township of Wawa

2,905

 $        116,054.75

 $          2,759.75

 $     113,295.00

Township of White River

645

 $          25,767.75

 $             612.75

 $       25,155.00

Village of Hilton Beach

171

 $            6,831.45

 $             162.45

 $         6,669.00

Village of Thornloe

112

 $            4,474.40

 $             106.40

 $         4,368.00

TOTAL:

766,056

 $   30,603,937.20

 $      727,753.20

 $29,876,184.00