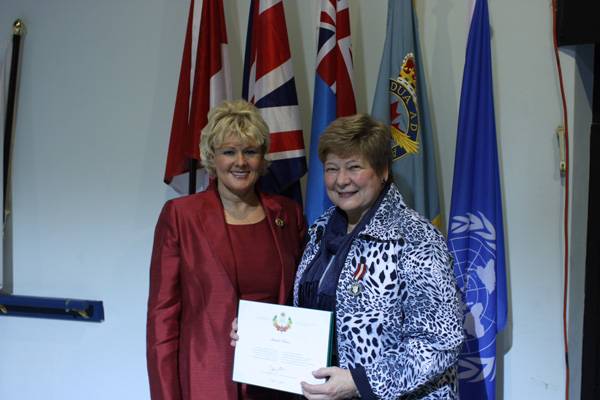 Renfrew, Ontario… Cheryl Gallant MP Renfrew-Nipissing-Pembroke, was honoured to present a Queen Elizabeth II Diamond Jubilee Medal to Renfrew Resident, Sandi Heins.
"Sandi Heins is a life-long resident of the Town of Renfrew.  Ms. Heins devoted herself to years of volunteerism for the betterment of Renfrew all while managing a productive career with the Ministry of Community and Social Services. She has spent 25 years in Municipal Government, and served with many committees to enhance the Town of Renfrew in services and infrastructure.  Sandi's participation in Ma-te-way Activity Centre, Hydro, Recreation, Development and Works, Fire, Library, the Renfrew County United Way, the Renfrew and area Doctor Recruitment Committee are an indication of time well spent in community service, said Cheryl Gallant, M.P.
"It is an honour to recognize Sandi Heins for her service to Canada and to formally acknowledge her outstanding contributions and achievements" stated Cheryl Gallant, M.P.