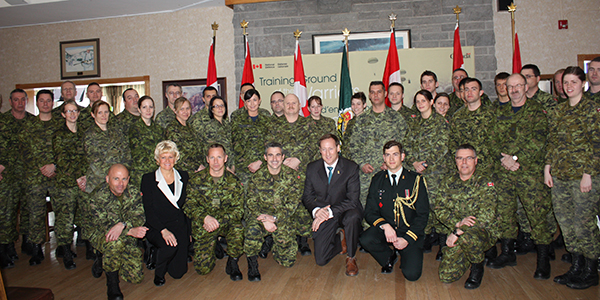 Ottawa, Ontario –  Today in Question Period, Cheryl Gallant, MP for Renfrew—Nipissing—Pembroke, asked the Government of Canada to clarify recent troubling news stories in the national media. It was reported that approximately 100 soldiers who had served in the ongoing Canadian Forces training mission in Afghanistan were asked by Defence Department officials to return up to $1,600 each in danger pay, on grounds that the mission was not deemed to be at the same threat level as it had been previously.
As the MP for CFB Petawawa, whose soldiers have served in Afghanistan, Mrs. Gallant was quick to ask the Government on Monday for immediate clarification on the situation.
(Hansard, April 22nd, 2013)
Mrs. Cheryl Gallant (Renfrew—Nipissing—Pembroke, CPC):
Mr. Speaker, we are eternally grateful for the dedication and sacrifice made by Canadian Armed Forces members. Our government committed to supporting the women and men in uniform to do the tasks we ask them to do, some of which are very dangerous, so today I was particularly disturbed by media stories that our soldiers have to pay back money due to an administrative error.

Can the Minister of National Defence please clarify this matter and update the House on what action our government is taking to rectify it?
Hon. Peter MacKay (Minister of National Defence, CPC):
Mr. Speaker, I share my colleague from Renfrew—Nipissing—Pembroke's sentiment with respect to our government and our country's proud and grateful attitude toward our members of the Armed Forces for their service and sacrifice, and those of their families.

As a result of an administrative error resulting in roughly 100 members of the Canadian Armed Forces having to face an overpayment that was going to be reclaimed, as Minister of National Defence, I firmly believe that it is unfair to penalize soldiers and their families as a result of an accounting error, so we will not be asking our soldiers to pay back the difference.

Earlier today, I instructed my department to take whatever steps were necessary to reverse this collection.
-30-