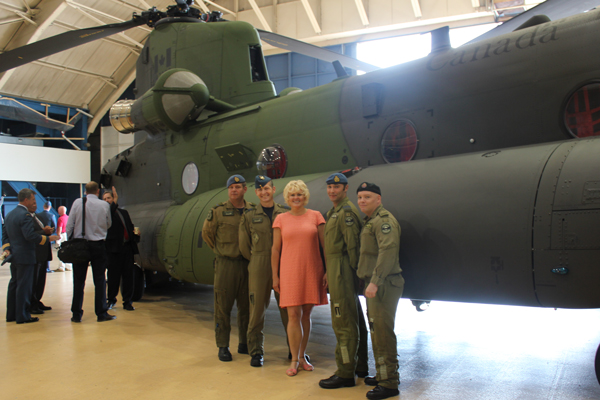 Cheryl with airmen from 450 Tactical Helicopter Squadron
Ottawa, Ontario – Cheryl Gallant, MP for Renfrew—Nipissing—Pembroke, joined the Honourable Peter MacKay, Minister of National Defence at the Ottawa Airport today to welcome the delivery of the first new CH-147F Chinook helicopter. This helicopter, together with the 14 other Chinooks on the way, will be based at C.F. Superbase Petawawa.
"The delivery of the first Chinook is exciting for the Army and the community," said MP Gallant. "These helicopters will enable our women and men in uniform to accomplish well beyond what they formerly could do. They will also result in over 400 new military jobs, and have the potential for spin-off jobs and growth in the aerospace and defence industries in Renfrew County."
The CH-147F Chinook is an advanced, multi-mission, medium to heavy-lift helicopter. In addition to the military capabilities, the Chinook Crews will provide rapid response to civilian emergencies and natural disasters across Canada. These Canadian Chinooks have been modified to meet requirements for operating in Canada, including the installation of long-range fuel tanks which allow it to fly twice as far as previous models. This dramatically increased range is particularly important for missions in Canada's vast northern regions.
"The new CH-147F represents the most modern and advanced evolution of a helicopter design that has proven itself in military operations for many years," said Minister Mackay. "These new helicopters will be a valuable addition to Canada's tactical transport capability for many years to come."
The entire fleet of 15 Canadian CH-147F Chinooks will be delivered over the course of the next year. Surrounding communities in Renfrew—Nipissing–Pembroke welcome the 450 Tactical Helicopter Squadron members and their families, and are pleased that the home of this new fleet has been re-established locally.