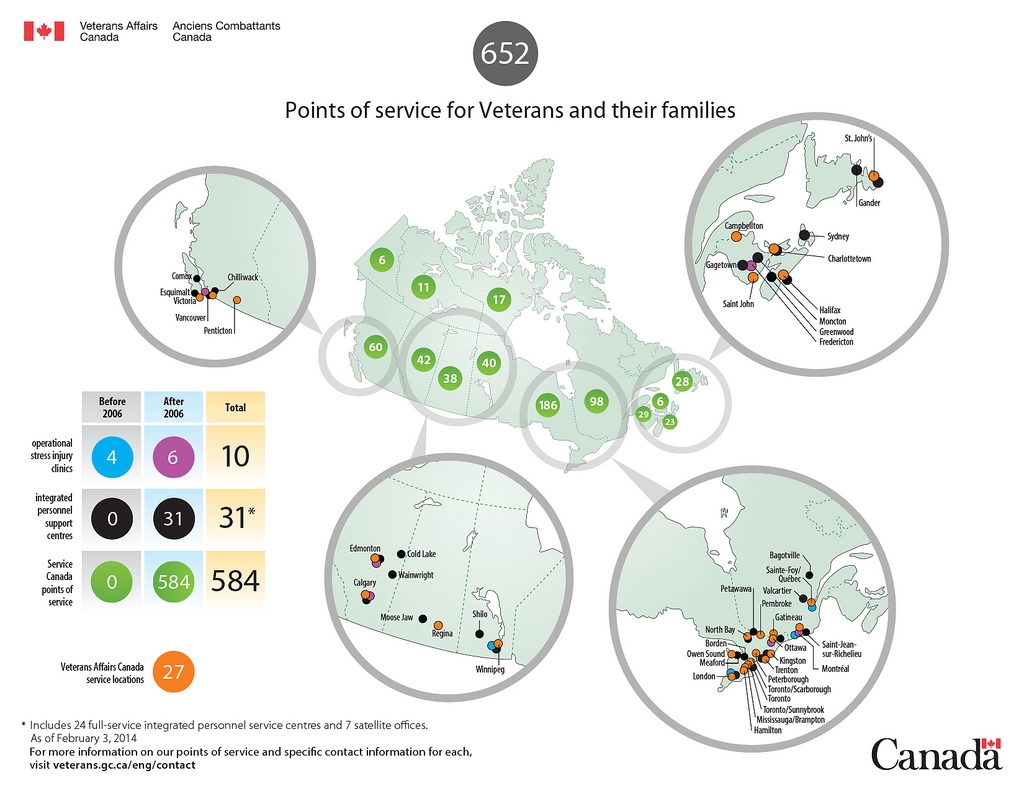 The treatment of soldiers and veterans has been receiving some additional attention lately. I am pleased to correct the record when it comes to the decision to expand the services provided to veterans by merging eight under-used veteran's affairs offices with Service Canada and its 650 points of service across Canada.
There will be no local change of service. Renfrew-Nipissing-Pembroke will continue to be served by offices in Pembroke and Petawawa, in addition to any Service Canada locations. I also encourage any soldier or veteran to contact my office if they need help in any way.
We are going from approximately fifty (50) points of service across the country to 650 Points of service. In the eight (8) district offices that are merging with Service Canada, that Service Canada Office will have an experienced Veterans Affairs officer who will work alongside a trained Service Canada employee. Across Canada, of the 8 offices being merged, 5 are in the same building, 2 are within one kilometre, and one is 4 km away. Some of the district offices being merged were seeing 3 clients a day. For seriously injured veterans who are unable to drive, we will send a registered nurse or case manager to their home along with cutting grass, removing snow, cleaning their homes.
Significant investment has been made by the Canadian Armed Forces to ensure that our military members receive the highest standard of mental health care possible. Since 2006, the Canadian Armed Forces health care investment has increased, bringing our expenses in health care close to $420 million each year. There are no budget cuts when it comes to caring for our military.
In 2012, the government announced an additional $11.4-million investment, to enhance the armed forces mental health care system specifically. This brings the total amount of annual mental health investment for military members to $50 million. These investments translate to approximately 400 mental health professionals dedicated to our men and women in uniform, and we are currently working on bringing in additional qualified applicants to fill the spaces available.
One of the challenges of having a military base in rural Ontario is the shortage of health care professionals for the entire population. Even though the federal Conservative government has struggled to find mental health care professionals for Base Petawawa, we have successfully staffed five doctors for a base population of 6,000 soldiers; compare that to one psychiatrist for a local civilian population of 100,000 people. We have five doctors for the military population of 6,000 and one for the remaining 100,000 people in the civilian population. Is there a health care crisis in Renfrew County? Yes. Is the federal government trying to deal with the provincial shortage? Yes.