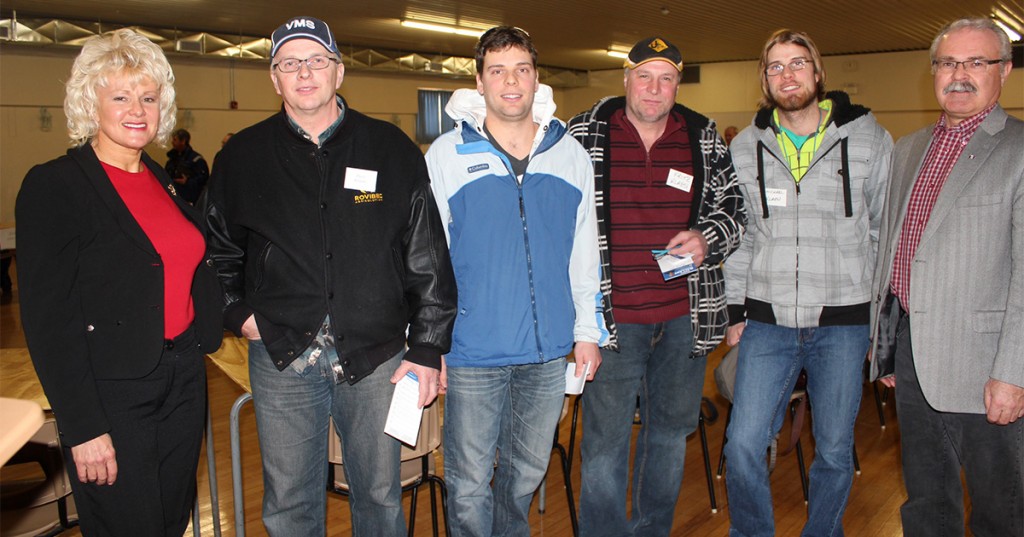 Photo: Cheryl Gallant MP at the agricultural meeting with Paul Klaesi, Elias Klaesi, Fritz Klaesi, Michael Klaesi, Federal Agriculture Minister Gerry Ritz
Cobden, Ontario – Federal Agriculture Minister Gerry Ritz recently joined Renfrew-Nipissing-Pembroke MP Cheryl Gallant for a roundtable discussion on agriculture.
"The purpose of the meeting was to determine how local farmers can best position themselves to benefit from the Canada-Europe Trade Agreement, which in two years will start to be phased in," stated Cheryl Gallant, MP.
"Opportunities for hog and beef producers are particularly promising. In fact, cow-calf operators are eagerly awaiting the announcement of a trade agreement between Canada and South Korea, as well. The sooner Canada diversifies exports to more than 50 percent of its livestock production to markets like Europe and South Korea, the less vulnerable will farmers be to fluctuations in American demand," stated MP Gallant.
Local dairy farmers feel the increase in tariff-free cheese into Canada may create an uneven playing field, because pasteurization rules in Ontario drive up their input costs, and make it hard to compete with the variety of flavours available to EU counterparts, who are not subject to the same standards. Minister Ritz stated that CFIA inspectors will travel to the cheese factories in Europe to ensure their products meet our standards for human health. Since disparity exists between provinces on pasteurization standards, Ontario cheese makers also state they are at a disadvantage within their own country.
Attendees also inquired about the Trans-Pacific Partnership that will be negotiated between North America and Asia. Minister Ritz outlined the Investment Canada Act the federal government passed last year requires China to afford Canadian businesses the same rights as their businesses enjoy in our country.
Part of the discussion also centred on trade with the United States. Canada has won the case over Country of Origin Labelling (COOL), which requires American meat plants to have areas for processing foreign meat separate and apart from where US livestock is packed. Even though the US has lost the appeal to the ruling, they continue to enforce the COOL regulations. Canada is preparing retaliatory measures. Minister Ritz mentioned that more US legislators are opposing COOL because without Canadian livestock, their plants do not have enough meat to process, and plants are closing down. This means their farmers have fewer processors, pushing the value of their cattle lower.
Competition with South America was also touched upon. The fact that the Pest Management Regulatory Agency does not allow our produce growers access to substances used by countries that export fruit and vegetables into Canada, is driving up input costs in addition to the higher wages for labour Ontario farmers must pay.
"The consensus among farmers after the session was that it was very productive. It certainly helps to have an Agriculture Minister who is a farmer also. It was a pleasure to thank Minister Ritz for coming to address Renfrew County agricultural producers," concluded Cheryl Gallant, MP.