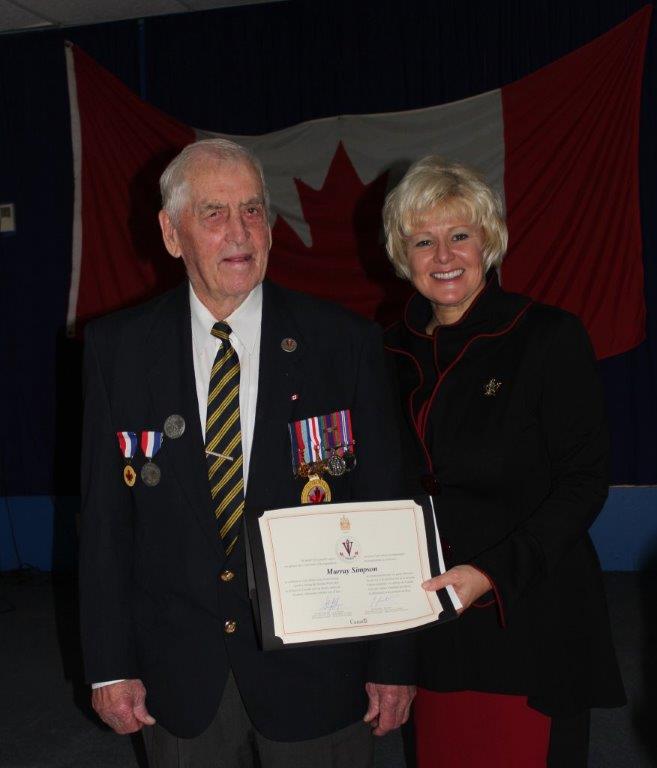 Cobden, Ontario – Cheryl Gallant, M.P. for Renfrew—Nipissing—Pembroke, was pleased to present Murray Simpson of Cobden with World War II Veteran pin and certificate.  Mr. Simpson served with the Canadian Army from 1943-1945 in Western Europe.
"It is a great honour to present Murray Simpson with this lapel pin to celebrate his service to our country in the Second World War," said MP Gallant.  "We are grateful for his service and his role in the liberation of France, Belgium and the Netherlands from German control."
Murray Simpson enlisted in the Canadian Army in 1943, and was sent to England for training.  One week after the D-Day invasion in June 1944, Mr. Simpson's unit was sent to France, almost immediately finding out they were not wanted there by the Germans.  Mr. Simpson saw action across Belgium, the Netherlands, and took part of the Allied push into Germany.  Following the German surrender on May 8th, 1945, Mr. Simpson returned home from Europe.
To mark the 75th anniversary of Canada's engagement in the Second World War, living Canadian Veterans of the Second World War can receive a tribute lapel pin and certificate in recognition of their service to Canada.  Any Veteran who served at least one day with Canadian forces or any other Allied force, including the Canadian or British Merchant Navy, is eligible to receive the tribute lapel pin and certificate.
If you are or know a WWII Veteran who is eligible to receive this recognition, please, visit cherylgallant.com/veterans for information on how to apply.