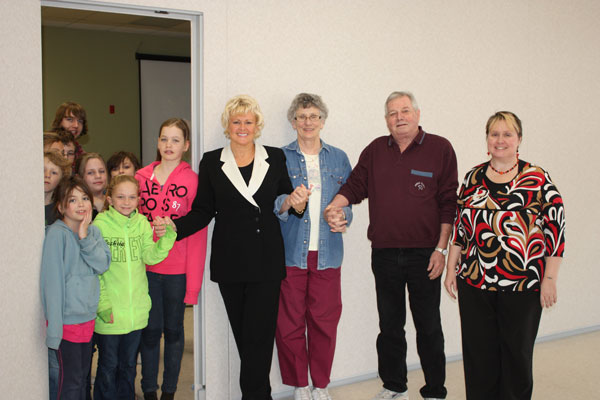 Photo: March break Eganville aread children at Eganville centre for Movie Day, Cheryl, Joyce Gutziet, Ken Caldwell and Shelley McLeod, programs co-ordinator
Eganville, Ontario – Cheryl Gallant, Member of Parliament for Renfrew-Nipissing-Pembroke, today congratulated the Eganville and District Senior Needs on being selected  to receive funding under the New Horizons for Seniors Program (NHSP). This will ensure that seniors in Eganville have the opportunity to participate in a variety of activities and take an active leadership role within their communities.
The New Horizons funding of $23,600 enabled Eganville & District Senior Needs to install a large room divider to support social participation and inclusion of seniors by to provide a variety of activities from computer clubs, exercise classes and other various workshops.
"The room divider allows multiple activities to go on at once.  Today we have the local Youth Group enjoying a Movie Day during March Break, while Seniors have an exercise class on the other side.  The project not only provides a barrier-free facility unique to the village, but is bridging the gap between young and old", confirmed M.P. Gallant.